The promotional t-shirt is an effective way to engage with your audience and staff. They have high perceived value and are long lasting (a good quality t-shirt with a great design, is often kept and worn for years).
Events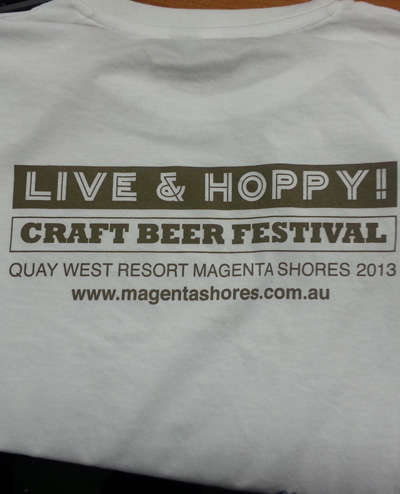 One of the most popular uses is in event marketing, where a branded t-shirt is either given free as part of a ticket sale or sold as event merchandise. Food and wine festivals, concerts and sporting events are great examples.
Win/Win: Your brand gets promoted long after the event ... and people love displaying their attendance at an event.
Staff and Company Profile
A clever design or smart line of text, can create plenty of interest. Consider using a promotional t-shirt for staff to wear at a trade show, networking events or as a staff uniform.
Win/Win: Who doesn't like a free t-shirt as an employee .. it sure takes the pressure off the wardrobe. Your staff will promote your brand beyond the confines of the office while heading to work and out to lunch. At trade shows they help as direction finders to your stand and unify your stand's theme.
Marketing
If you use competitions to create interaction with your website, Facebook and other fans, use a promotional t-shirt as the prize. For some brands, you may even like to make the t-shirt the competition i.e. 'design my tshirt'.
Win/Win: Everyone loves free stuff and your brand gets exposure beyond the competition period.
I came across this great post from Sujan Patel and how he uses promotional t-shirts to build his business profile - case study promotional t-shirt
When considering the inclusion of promotional t-shirts, use these tips:
- use the best quality for the purpose (use higher quality for merchandise you plan to sell)
- be creative, but keep the message clear and simple
- involve your promotional product expert early to discuss styles, decoration/printing production
Got a question? Need to order now? Need more inspiration? - contact us.
Thrive Promotional Products and Corporate Gifts is an Australian based company, supporting businesses from the big smoke cities of Sydney, Melbourne, Brisbane, Adelaide and Perth ... to the regional towns, across the land.
---