Imagine receiving a promotional goody bag containing lots of treats.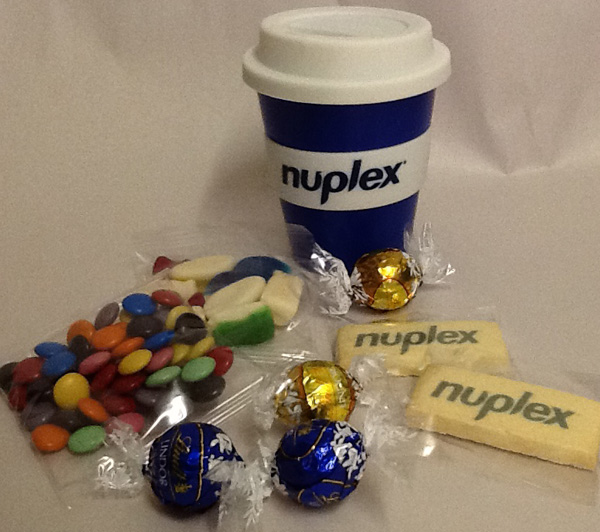 How nice are the folk at Nuplex.
They opened a shiny new office recently and Thrive Promotional was asked to assist with a goody bag for staff, as a welcome to their new 'home'.
A gloss white gift bag with ribbon and personalised gift card contained confectionery bags, Lindt chocolates, branded shortbreads and a Nuplex branded carry eco cup.
Popular .. were they ever !
The goody bag has the opportunity to create a 'warm and fuzzy' feeling of appreciation as a staff reward. They are also an ideal way to create awareness, be a reminder or introduce your business to a new market.
The key is to ensure the contents are user friendly with handy items .. or yummy options.
Use a goody bag to reward, thank or promote, for post event take
home gifts, for businesses opening celebrations, theme the contents for a room gift at a
conference, real estate tenant gift ... the possibilities are endless.
Thrive Promotional can help design, assemble, brand and deliver a goody bag to perfectly match your requirements.
Got a question? Need to order now? Need more inspiration? - contact us.
Thrive Promotional Products and Corporate Gifts is an Australian based company, supporting businesses from the big smoke cities of Sydney, Melbourne, Brisbane, Adelaide and Perth ... to the regional towns, across the land.
---