Want a fun, long lasting and interactive idea that connects with your customers? What about an idea that doesn't take lots of budget. Are you especially keen to find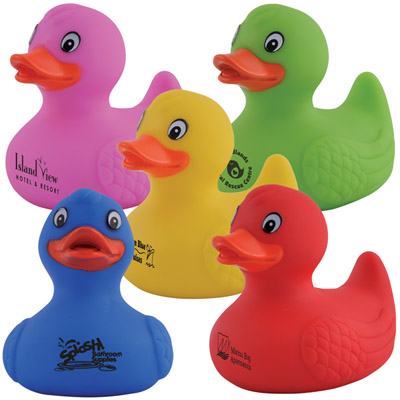 a way to build your social media profile?
The answer could be this little rubber duck.
The concept ..
1: Take one cute rubber floating bath duck - you'll find options here rubber floating bath duck
2: Get Thrive Promotional Products to print your facebook address, perhaps even a QR code onto each duck.
3: Distribute your ducks with a little note asking recipients to take their duck with them on their travels and record where they go (cafe, overseas holiday, movie etc).
4: Reward photos posted via your facebook page, pinterest, instagram etc.
What do you think? Clever idea right !
Naturally this can be tweaked i.e. replacing the 'duck' with another character that can be carried easily e.g. a small teddy bear or even something custom made to fit your branding.
Obvious fits for this type of promotion is a hotel, travel agency, holiday park .. But many other businesses can easily adopt this one.
Would you love to explore further .. duck over to Thrive Promotional Products and Corporate Gifts OR contact us.
Thrive Promotional Products and Corporate Gifts is an Australian based company, supporting businesses from the big smoke cities of Sydney, Melbourne, Brisbane, Adelaide and Perth ... to the regional towns, across the land.
---